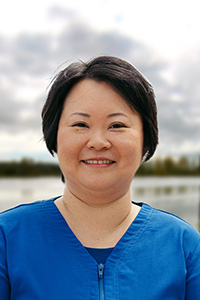 Lorraine graduated from the University of British Columbia in 1999 with a Bachelor of Science. She then obtained her Dental Assisting Diploma from the City College of San Francisco in 2001 and to further challenge herself, Lorraine studied Dental Hygiene at Vancouver Community College. She graduated in 2011 with a Diploma in Dental Hygiene as Class Valedictorian.
In 2012 Lorraine joined Kaizen Dental and works closely with all the doctors to provide individualized hygiene care to her clients. She has a great rapport with all her clients while assisting them in achieving their oral health care goals. Her cheerful and positive attitude makes everyone feel comfortable and at ease during their visits. Lorraine is knowledgeable and skillful in her area of expertise, and is able to communicate fluently with her clients in English and Cantonese.
Krista grew up with a family full of dental professionals, she always knew she wanted a career in the dental field. Krista attended Vancouver Community College in 2010 and received her certification in Dental Assisting. Four years later, she decided to pursue a career in Dental Hygiene. She received her Dental Hygiene Diploma in 2015 from Vancouver College of Dental Hygiene. She is passionate about prevention and treatment of periodontal disease, and early detection of lesions in the mouth. Krista's professional affiliations include being a member of the BC Dental Hygienist Association, the College of Dental Hygienists of BC, and the Canadian Dental Hygienists Association. In her leisure time, she loves to go on little adventures with her family and friends!